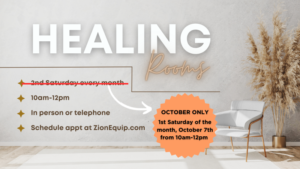 OCTOBER ONLY: Healing Rooms will be held the first Saturday of the month, October 7th from 10am-12pm.
Healing Rooms are a ministry that is pursuing the Holy Spirit and His healing power. We are creating a place for Him to bring life, wholeness and love to those who are dealing with physical ailments or issues. It is a place where passionate, joy-filled believers gather to host the presence of God and see Him bring complete restoration and healing.
All are welcome and there is no cost! Registration is free but required so we know how many people to prepare for!
Register at the following website here or click the register button above!
Thank you so much for partnering with us and allowing us to partner with YOU! We look forward with anticipation to the testimonies, breakthroughs and healing that God will do during this time!