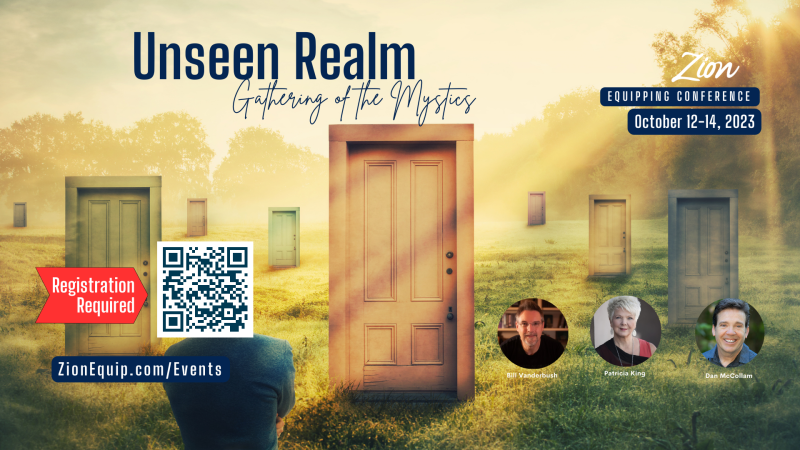 The Unseen Realm: Gathering of the Mystics Equipping Conference is happening on October 12-14, 2023!
Do you want to better recognize, understand, and walk in the unseen realm?
As we are entering into an ever-expanding, transformational glory (2 Corinthians 3:18; Isaiah 9:6-7), this equipping conference will teach you to better learn about and operate in the Unseen Realm. This is not just a conference, and it is not just a training/equipping time, but both. This is an Equipping Conference.
The morning and afternoon will be geared toward training and equipping sessions. During the evening sessions, well… an explosion of whatever the Lord wants to do as we yield ourselves to Him in worship and the Word. Hope you can join us!
Come and receive from three of the best equipping Prophets we know: Bill Vanderbush, Patricia King, and Dan McCollam, for THREE days, (October 12-14, 2023), of equipping in the Unseen Realm.
You can register at the button above. Tickets are $85 for a single or $150 for a married couple. Questions about the conference can be directed to [email protected]
SCHEDULE
Thursday 10/12
5:15pm-6:45pm Check in
7pm Bill Vanderbush (Doors open for seating at 6:30pm)
Friday 10/13
10am Dan McCollam
2pm Dan McCollam
7pm Patricia King (Doors open for seating 6:30pm)
Saturday 10/14
10am Patricia King
2pm Patricia King
7pm Dan McCollam (Doors open for seating 6:30pm)
*WANT TO ATTEND FOR FREE?  If you call yourself a ZIONEER, volunteer to serve at the event! Register Here:  UNSEEN REALM VOLUNTEER REGISTRATION