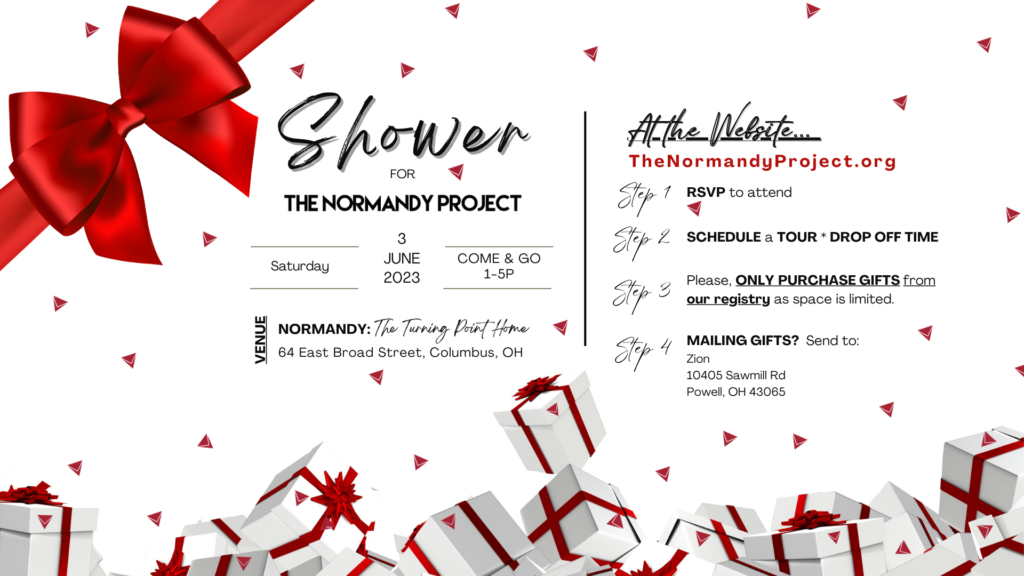 Join us on June 3rd for the Normandy Shower to celebrate the completion of the renovations of the Normandy Project! We are asking everyone to partner with us to purchase the items listed on the registry to provide a warm welcome to the women coming in! We ask that you only purchase gifts on the registry. Gifts should NOT be wrapped. This makes it easier for the Normandy Team to take stock of what is donated.
After you purchase items on the registry, you can select a time spot to drop off your gifts at the building on June 3rd and sign up for a tour slot!
If you are unable to make it on June 3rd, you can still participate in the shower! You can drop off items at Zion in the donation drop site in the lobby. If you are from out of state, you can mail gifts to Zion at 10405 Sawmill Rd. Powell, Ohio 40365. We also are accepting financial donations. Those can be made at the register link above!
Below you will find the steps to take to purchase gifts off the registry and sign up for tours:
Step 1 RSVP to attend
Step 2 SCHEDULE a TOUR
Step 3 GIFT DROP OFF TIME  (Please, ONLY PURCHASE GIFTS from our registry as space is limited)
Step 4 MAILING GIFTS? Send to: Zion 10405 Sawmill Rd Powell, OH 43065
*What's even better… No need to wrap your gifts!  This will make it easier for the team to get them in their places.
Please sign up at the REGISTER button above. If you have any questions, please direct them to [email protected]